Clicking on a picture will yield a larger version thereof ...
What a good-looking bunch. This is Anh, Rob, Jessica, and Jeff. This was taken shortly after Rob and Anh and I moved to California. Jess and Jeff were visiting.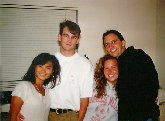 ---
This is the little girl who lives downstairs. Her name is Annette, she is 5 years old or so, and out of shyness she wouldn't say a word to me for the first year I lived in the apartment above her family. Now she won't stop talking! :)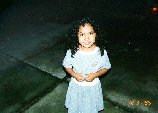 ---
This is the most of the Blanco clan from downstairs. The two adults on the left were visiting for New Years, and their son is the one in the blue and white shirt. Other than that we have (top-bottom, left-right): Mrs. Blanco (Rose), Claudia, Eric, and Annette.

---
The three amigos. John on the left, Todd in the middle, and (my crummy roommate) Martin on the right.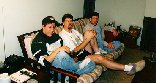 ---
The one and only Jared Oberhaus Xmas '94.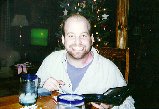 ---
Jared about to dig in to our Thanksgiving turkey with the biggest knife I could find in the house ...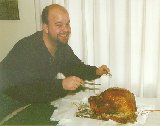 ---
In the Kulick kitchen - Laura, Todd, and my ex-girlfriend Patricia.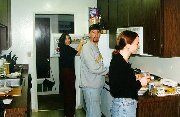 ---
Nick, whom I have known since the first grade and who was my roommate for about a year before Martin moved in. Nick is a psychology Ph.D. student at Stanford.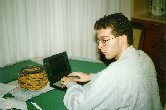 ---
This is my ex-girlfriend, Patricia.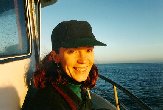 ---
Rebecca Hersh. I wrote several thousand emails to her when I was in college, and she wrote as many to me, but we never really knew each other in person. Now she is working for Intel in Portland.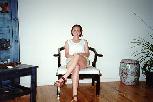 ---
This is my old college roommate Rob. Rob was a really great guy whom I miss dearly and haven't seen since college. I have no idea what he is doing right now but I hope whatever it is it's bringing him closer to his goal of going to graduate school to study history.

---
This is Rob in the front yard of our Pittsburgh apartment, crouching in the grass that our landlord refused to cut.

Return to my home page.