Clicking on a picture will yield a larger version thereof ...
My sister, her fiancee, and her fiancee's daughter, circa July '95.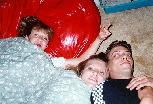 ---
My sister and her fiancee at Quaker Steak and Lube in Sharon, Pennsylvania. We were celebrating my sister's birthday - July 5. She turned 22 in 1995.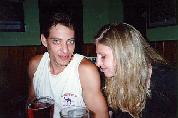 ---
My sister, Heather, and her finacee's daughters, Erika (on the left) and Nicole (on the right). Easter, 1996.

---
My sister's finacee, John Eric.

---
My mom with the guy from "The Karate Kid" and some of his pals. I guess she was in a bar in L.A. and she saw him there.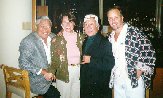 ---
My mom in Napa in front of the Robert Mondhavi Winery.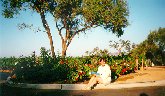 Return to my home page.